Free Clipboard Manager for tracking the Clipboard History
Clipdiary Free is a free version of Clipdiary clipboard manager. It includes all features of Clipdiary 3.0 with all bug fixes and improvement up to version 3.5. Clipdiary Free is free for private and non-commercial use. If you want to use Clipdiary in commercial environment or just get full-featured version read more about advantages of full version.
Copy and paste problem
How often do you copy/paste data? Perhaps, hundreds of times a day, just like me.
If you have never lost information stored in the clipboard, you are very lucky. Most likely, though, it happened more than once that you were trying to paste a piece of text, but something different was pasted instead - that's because the standard Windows clipboard just overwrites clipboard contents each time you copy something.
Clipboard with history added, isn't that cool?
I hated the problem, so I've made this cute program, Clipdiary Free. It is a free clipboard history manager that works almost like a time machine, because it lets you see what was in the clipboard a long time ago.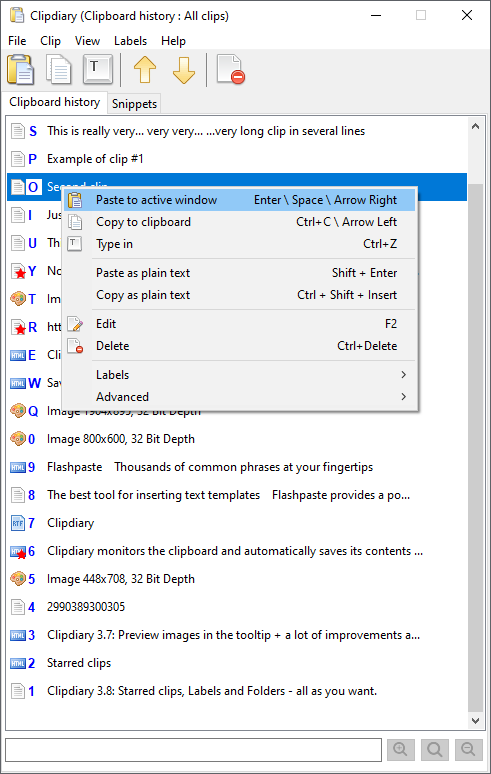 As soon as you install it, you can forget about the copy/paste problem! Moreover, there's a nice clipboard diary at your disposal, so you can view clipboard history and retrieve any data that was in the clipboard some time ago.
Read the Clipdiary Full version description in English, Danish, French, German, Polish, Russian, Spanish.
Clipdiary is available in: Arabic, Bosnian, Czech, Danish, Dutch, English, Finnish, French, German, Hindi, Indonesian, Italian, Norwegian, Polish, Portuguese(Brazilian), Romanian, Russian, Simplified Chinese, Spanish(Mexican), Turkish